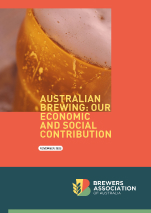 AUSTRALIAN BREWING
Our role in Australia's Economy
and local communities
About us
The Brewers Association of Australia is the peak body representing Australia's leading beer makers and, more broadly, beer drinkers across Australia. It is a leading voice for sensible, responsible and workable policy solutions for our sector and the community.
Our membership comprises the nation's premier beer producers: Asahi Beverages (owner of Carlton and United Breweries), Lion and Coopers.
Together the iconic brands and premium beers made by these companies account for more than 79 per cent of all beer sales in Australia.